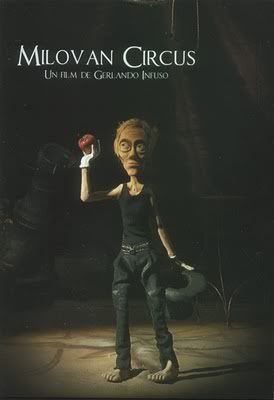 Sin Diálogos / No Dialogue
Narra la historia del ascenso y caída de la carrera de Iakov, un artista circense. Rememorando aquellos momentos de gloria y de amargura, este mimo nos recuerda que el sombrío panorama del espectáculo está direcatamente vinculado a la soledad.
Elaborado con muñecos en Stop-Motion, este cortometraje fue ganador del Audience Award, Anima Bruxelles 2009.
"(...) Gerlando Infuso, a student in animation at La Cambre, developed a plot centred around a character torn between madness and coldness. One year down the line, a new idea has sprouted – a circus artist faced with rejection and age. With « Milovan Circus », Gerlando Infuso revisits the theme of solitude, the poesy of the grim, and stop-motion animation – elements that had contributed to the success of his previous short. The film certainly impressed the Jury at the 2009 Média 10-10 Festival, since it walked off with the Best Soundtrack as well as the Best Digital Image awards.
A dark night, empty streets, dreams, nightmares. In the cages and wagons of Milovan circus, all is asleep, almost all, or about to sleep, after the wiping off of makeup or the last spitting of fire for the day. The wind, though, is still busy at work – a gust blows a poster away, only to reveal another, an older one, reminiscent of the past glories of the Great Iakov. Bare-chested and barefoot, old and grey, he appears in the cracked mirror of his makeup table. Following the contours of his wrinkles, Iakov relives his memories: his precocious talent for magic tricks, his remakable debut in the circus, his rise to fame, his feelings for a fellow-acrobat, his eviction from the circus subsequent to the hiring of an "unnamable creature", and his downfall reducing him to a street mime artist.
« Milovan Circus » is an interesting film on many levels. As for the form, Gerlando Infuso, when interviewed about « Margot » after Annecy, explained that he found his style in stop-motion animation, after having tried out several other techniques. « Milovan Circus » proves that he was quite right in pursuing this path – his puppets are just as life-like, grim and poetic as in the previous film. With one small difference – « Margot » was constructed with the help of a voice-over représenting the interior monologue of an obsessive protagoniste, whereas « Milovan Circus » has no sound except its musical score. The flashbacks and the lost empty gaze of the hero tell amply of his interiority, his words and his trials. Faced with this bubble glory and its perverse effects (rejection, oblivion, …), the marionnette Iakov remembers with emotion Calvero, a former star of the Music Hall, played by Charlie Chaplin in « Limelight », another left-over of ephemeral fame."
LINK
https://rapidshare.com/files/1406307669/2008MilovanCircus.G.Infuso.www.nplus2.org.mp4